I was getting ready for work this morning and thought I would do a "Product of the Week" of my bathroom countertop. In case you are new to my blog and are wondering why I do this, it's because I love studying brands and marketing. So I've done a lot of research and when I buy things it is very intentional. So here we go.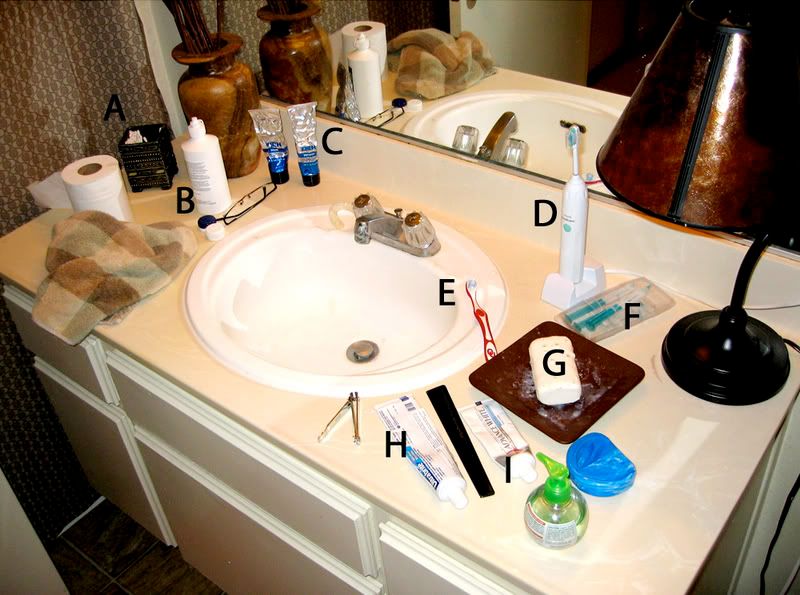 A. Q Tips
Some things you don't want to get generic. Get the name brand. The stick is stronger and doesn't bend as easily.
B. Target contact solution
Here's where you can cut back your spending. This is several bucks cheaper and bascially the same stuff.
C.
Zirh
face stuff:
It's great! It has cool packaging and it covers your basic cleanliness needs. The name of the products tell you what it does. I have "Scrub" and "Protect." There are others. I think their web site has some testimonials. I just checked...FHM rated it best men's grooming range of products. So take that for what it's worth.
D. Sonicare Elite toothbrush
This toothbrush removes significantly more dental plaque biofilm 2-3 mm beyond the bristles than other electric toothbrushes. It also has a really long battery life and has a case to pack it up to travel.
E. University of Oklahoma toothbrush
Santa put this in my stocking at Christmas. I use it to clean the inside of my Sonicare toothbrush.
F. Nite White teeth whitening syringes
It's America's #1 bleaching system. Go to your dentist and have a mold made of your teeth and then order this stuff on eBay. It's tons cheaper. Get 22% concentration and wear it for one hour a day.
G. Trader Joe's Oatmeal Soap
Yes. There is oatmeal in it. It kinda hurts because the oatmeal is hard but the oats scrub your hands getting them cleaner.
H. Ultra White toothpaste
I've blogged about this stuff before. By far the best buy for tooth whitening toothpaste. It's like 90 cents a tube and does the best job according to Consumer Reports.
I. Arm & Hammer Advanced White Baking Soda toothpaste
Always use a baking soda toothpaste before using Nite White.