Living in California with my family living is Texas can makes it impossible to go home for every holiday. I've been fortunate though to have awesome people out here who take me in every holiday that I am out here away from my family. This year at Thanksgiving was no exception. I got to spend Thanksgiving with Tim and Melody Davis and their family yesterday.
John and Dominik were also family-less this Thanksgiving, so we all got to enjoy Thanksgiving together. The food was incredible. I have no idea how she made it all, but Melody prepared the most elaborate spread of food. It was a classic Thanksgiving dinner with all the trimmings topped off with a 6-inch-tall, homemade apple pie.
I snapped this picture of Dominik right before dinner.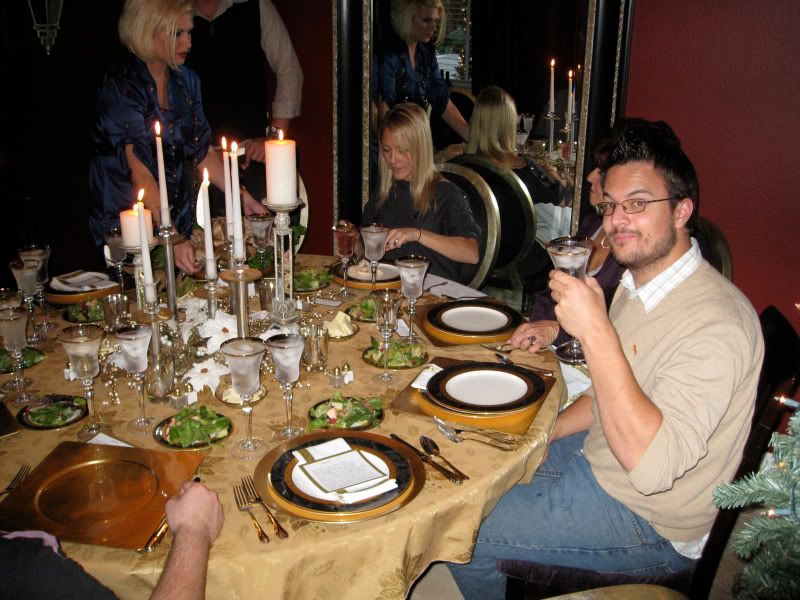 Highlights of the night were:
• hearing about Dominik's family history at dinner. Dominik is from Germany.
• meeting Tim's friends Adam and Nikki who Tim knows from the music industry
• post-dinner conversation about which music artists are pleasant and which ones are very much not...it was very interesting.
• Watching the "Signature Sound" concert on DVD with GiGi and Joe, Melody's parents. You can't beat southern gospel music.
It was such a great Thanksgiving.